Why is it culturally acceptable for the dealers and sellers of poisons like Alcohol and Pharmaceuticals to be very profitable?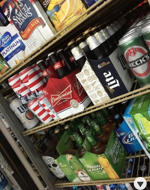 It seems completely fine to the world that the owners of the night clubs or strip bars are making a huge profits.  It also seems fine for people that those with medical symptoms are required to purchase pharmaceuticals that make you worse for a very high price and the the Pharmaceutical companies make huge profits.
Making huge profits is not itself a issue.  This is the American Dream to work hard and make money.  But my personal issue is that so much money is being made at the expense of people's health and overall wellbeing.  What i find curious is that these people who are profiting from our demise are celebrated as heroes rather than criminals.

Anybody who walks up to you on the street and does you damage physically is seen as a criminal.  Why is it not also criminal when somebody does you damage physically, but to your organs like your heart and intestines?  Selling poisonous substances under the guise as food, drink or medicine is damaging severely countless millions of people world wide.  Is it only criminal when the injury is superficial and visible and done by somebody who has no power to defend themselves in court but less so when the damage is internal and grave and perpetrated by a hidden army of corporate execs and attorneys who all laugh their way to the bank as you go to the hospital?

Anyone who sends you to the hospital should be seen as not a role model for society.  These big sugar companies, alcohol companies, meat and dairy companies, fast food conglomerates, tobacco, drug store companies, coffee companies…all share one thing in common… they hurt you and people are making huge profits on the damage while we all just accept that as ok.

And it could ok because people have the right to hurt themselves if they wish and if there was disclosure of the damage instead of suppression of the science.

If you want to be a Health Coach and a leader in the field of health and Nutrition please check out our Yoga Nutrition Health Coach certification that we offer several times a year in Miami.