"Dear Fred, i am ever ever ever grateful for everything you are and everything you have done for me.. THANK YOU"
"Hi Fred!
How are you?
I hope you are doing well and all is going great for you!
This email is wayyyyyy long overdue…… I have been meaning to write it for such a long time- better late than never right!
I really wanted to say a special thank you for everything that you have done, you may not even know the impact your teacher training has had on my life.
It's coming close to one year since I completed teacher training with you in Colorado and I have to say it's one of the best decisions I have ever made in my life.
My entire life has changed because of this, I have become so much more mindful and I am so full of gratitude for your teachings.
I started teaching about 4 months after I returned to Trinidad and things are going great so far. I know that I have only scratched the surface when it comes to yoga, but your teachings has set such a magnificent foundation for all things to come.
There is so much learning to be done and I've been trying on my end to be continuous…. My only wish was that I was closer to you, my teacher!
Life has changed in so many aspects for me……. The way I think, act and all the decisions that I make with regard to the food I eat and drink, the way I treat and care for my body and just all decisions in general. There is so much more mindfulness and gratitude in everything I do, it's really amazing the impact that yoga has had on me.
I know that I have a long way to go, my journey has only just begun…..
I really wanted to say thank you for everything and I hope that you know that you will always have a special place in my heart for all the teachings that I have learnt from you.
Please keep in touch and I'll def drop a line from time to time.
Your student and friend,
Amanda"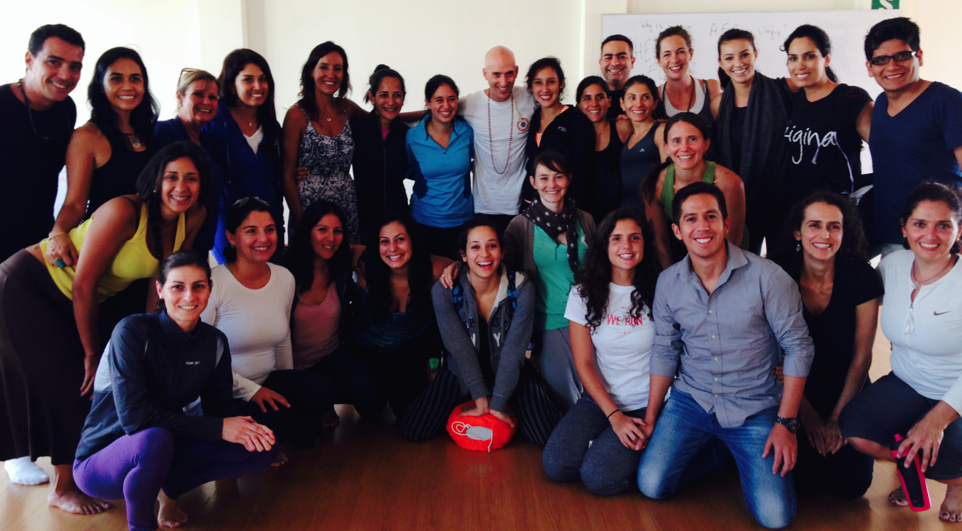 "It wasn't until three years after teacher training with Fred, that I grasped the impact of everything he taught me. As I partook in classes around the city and got to know other teachers, I started to notice the different perceptions of what it means to be a "yogi". Most didn't understand the importance of going deep beneath the surface of poses and a decent playlist. What about the growth of our students? Fred always made it clear that our students were the number one priority. It's not about us. He taught us that healing sequences and variations set you apart as a teacher because our bodies and minds call for different things at different times. Our job as teachers is not to help our students fit into a box but to help them expand in their own way from where they are. I'm grateful not just for his teaching methods but he taught us how to be yogis; to be kind humans with loving intentions. I don't kill bugs anymore. I carefully save and transport the ones I can because he taught us that every life matters. I understand the importance of nature and my connection to it because the weekend I spent on a retreat at his ranch changed my life forever. But it wasn't all butterflies and rainbows. I challenged him many times and struggled to understand him in the beginning. Things don't always appear clear right away, but time reveals all. I will be forever grateful to my first teacher and all that he taught me. Thank you, Fred. You were first beam of light to shine through the broken cracks of my once unawakened soul. Because of those first steps I took under your wing, I've been able to expand farther than I could ever imagine into this beautiful human that I am proud to be."
Krystal Ariel
"Dearest Fred: I don't have words to express my gratitude. Taking the course with you was a life changing process. I had always practiced yoga, but understanding all the physical, spiritual, energetic, and emotional side took my yoga to another level. You are an incredible teacher, not only for your knowledge but your human and spiritual side. I do believe God sent you to answer my email on time for me take this course. As I told you, doing the asanas in class, breathing, meditating and studying gave me the strength to keep moving forward!
Today had been a very rough morning, thank you for your compassion! If I can ever be of any help to you, please do not doubt on calling me.
Thank you and may God bless you!"
E.E.
Dearest Fred,
You were on my mind so I decided to drop a line. I am doing pretty good – give thanks!!!
Where in the world are you?
Just want to tell you again how grateful I am to you. I was talking to a group about the biggest thing I learnt from you so far and it would have to be to embrace strength (not saying you're sorry lol) and never be afraid to be firm yet free flowing.
Thank you for being unequivocally you.
One love,
Jo-Hanna

Hi Fred -I just wanted to send you an email thanking you for changing my life. I apologize for not sending this sooner. Because of your wonderful yoga teacher training program I am aligned with my purpose here on Earth. I have been exposed this beautiful massive new world that I never knew existed. The more I learn, the more that I find there is to learn. Far from being overwhelmed, for the first time in my life I am truly empowered and I see clearly the direction I need to go in. I am turning my family's health around by leading them through example to eat properly and increase their activity levels. My father (severe type 2 diabetic) now eats salads everyday for lunch, is losing weight, and stabilizing his blood sugar. Also a huge step, my mother no longer keeps white bread in the house and she eats raw almonds for a snack at work. Those are just a couple of instances where I have influenced others to love themselves more and to be more mindful about their health.
Hello Fred! I just finished my first chair yoga class for seniors, it was beautiful, they were very happy and relaxed at the end of the class. Im so thankful to you for answer all my questions and doubs, and feel very grateful I was able to take your TT.
Dear Fred,
Thank you so much! All i can say is that I feel so blessed …. so EQUIPPED for the world..every tool every emotion…every style of thinking…you have shared so much wisdom and so many things i have thought in the past you have confirmed and gave me the tools and the path to get wherever i am going Every day i am feeling so must joy and am so happy to wake up and come in to school! Every day is beautiful now and i am so thankful!


Fred.
There are no words for me to express how you changed my life. It has been such a blessing to have met you and at the same time you being the light and guru in my life. Needless to say I will always be your faithful student and friend for life. One love.


Dear Fred.
I cannot thank you enough for these 18 days of transformation I have experienced in all levels of my being. Sorry if my grammar is not perfect, I am writing straight from my heart (not from my head). I would like to share this story, It took me over 2 years to decide where to take my teacher training. My first encounter was Mano with whom I practiced yoga for a very long time and he constantly encouraged me to take it there but I wasn't sure, even though I feel a deep appreciation for his teachings. Then when I practiced with Paul Touliuzis, whom I also admire, he also motivated me to take it there but still wasn't quite convinced. Where I practice now, the Yoga Joint, which is convenient since it is close to my kids school and has heat, they also insisted I was ready for their training but still wasn't convinced, because it lacks spirituality. I also saw other places.
Then I went to try one of your classes on December 21st, and right away I knew and felt this was what I was looking for all this time and registered at the moment. After taking your class and listening to Mayara's mediattiom found all the elements I was looking for that other studios where lacking in my perception, either spirituality, safety, a practice that builds strengh, progressive asanas with heat to develop a stabe flexibility, precise and clear instructions, An acknowledgement to students during class, a personal touch, a practice based on a lineage, a balanced and well structured sequence, profound opening Nd closing meditations, a space with good energy and a feel of authenticity, a decoted teacher with no ego, and your wife Mayara with her pure energy and her smile. In few words I felt at home as a student and with the group at your class.
I feel so blessed I trainned with you. I am deeply deeply thankful for all that you taught me, every single thing brought me more awareness into myself which I believe is what yoga is about. I promise I will continue to grow and evolve these powerful seeds that you planted deeply on my soul.
Gracias de corazón


Daniela
Thank you Fred for everything! I'm so thankful for the training I had with you last year. It really helped give me the confidence I needed to just go for it, and dive into my dream. It had been lingering there for 6 years, since my training and India. My training with you though showed me how to make it my lifestyle and still live in the western world. Thank you thank thank you! Much much love!

Hi Fred,
So am in Guatemala now since a few weeks – been staying at the 'yoga-house' a community structured around daily yoga classes. I am enjoying it! These are the first classes I've taken since completing your training in Bogota and I have to say – it's made me realize that no yoga class will ever be the same after that Because once your taught and shown how to do something so well – you're left forever with that double-edged sword being that on the one hand – you know a fantastic way to teach and to learn yoga, but on the other – you instinctively and without being able to help yourself, measure every other yoga class up to that standard.
I want to make one point about touch. In the classes I've been doing here I've noticed the students never get touched. Occasionally we get adjustments but it isn't the same as that healing, loving touch which just says 'hi' and thanks the person for being there – making them feel a warm glow and reminding them that they are there, and they are entitled to unconditional love just like everyone else. So thanks to the experience of NOT having touch in classes – I fully appreciate just how important and how healing it is – and how much I want it in MY classes! I want to thank you so very much for making this a priority in your training – I think you and I both know that I didn't truly appreciate the meaning of touch at first. NOW I get it Thank you for emphasising it as you do! xxxxx Thank you for everything xxxxx (p.s. wanted to post this on your timeline but couldn't figure out how)
Taryna


'Fred Busch's Lower Back System sure worked for me; the Doctors wanted to fuse my back and swore that i would never skate board again… they were wrong lol'
Bobby Radical


Well, its about time I share this for all my students. I have spoken to a few of you about my past and how I came back to teaching after so many years of injury, recovery, life changes.. etc.. After my 1st accident in 2010 I had to have spinal surgery resulting in a loooooong time of 0 movement. I became depressed, unhealthy and frustrated with everything.. Especially myself. Within 1 year I went from 115lbs to a whopping 180lbs. At that point, I knew I needed to return to my roots and get back to my yoga ASAP. I put this together for my guru and dear friend Fred Busch that helped put me back on the right track. I changed just a few things, never went on a diet, nor ever tried to loose weight. I just wanted to live longer, be healthy and happy. 3 years later, I am stronger now then ever. Physically, mentally… In a way, I owe him my life as he helped me 'shed' my old one XO

"You're the best guru I could have ever imagined up but you're so real and I'm so grateful!"
This is why I went to Colorado to train with Fred Busch!!! His yoga teacher training was really LIFE TRAINING. There was so much that I took from it, so much that it has done for my life already… I am forever grateful. Not to mention that the beautiful people I made friends with in the training also added to my life change. There are no coincidences. I went out there during a hard time in my life and I came back renewed. The week I got back I started working as a yoga instructor, and I'm working to be a person that can provide this kind of service to others.
Thanks Fred and Mayara Busch for everything you do! I love you!


hi fred! I hope you be great, im only want to write you for to say thanks for everything you teach us! i know i pay my course, but you give me the tools to help the others and the best base… today i check some videos of teacher trainning and remember a lot of details! my savasana its amaizing and i dont say that, its every people who take my class, im really happy works like teacher, for me its the best job in the world!  one more time, thanks Fred and I hope see you soon :):)

Fred, thank you so much for believing in me, and allowing me to do my teacher training even when I couldn't afford to pay you for all of it. I am sharing the practice with so many people and introducing the practice to so many beginners who keep coming back – my heart overflows with gratitude!! Thank you for not doubting me, and for always being so steady and such a wonderful guide!!!
"Somethings i want to say to you my dearest master.

I came into that room with no hopes or expectations of anything, didnt know what i could do, what miracles where made of. You change my world transform my self and make me a better person everyday. I remember you with great love and try to give daily to others what you gave to me.
I didn't knew at that time what could i do with my body and how to cease my mind, thank you for everything God bless you a your family, you are a blessing to all of us. Please, please keep on doing what you are doing you make this world a better world the world it was meant to be!
DEAR FRED –
Hi, I am "Ruth Jones" on your website and on Facebook : I have never posted anything before supporting an organization. Is the below helpful to you? I am trying to get it on facebook, not sure if that happened! (I am more into gadgets that internet, I guess). My cell: 786 208 7129 if you think I should change anything.  Here is what I wrote:
Ruth Jones · New Smyrna Beach, Florida
As a particpant in the Hot Yoga Study, I am impressed with the professionalism and attentiveness of each of the Instructors I have taken classes with at Miami Hot Yoga. The studio is very clean, lots of natural light, parking onsite (limited), more at curb. Whether or not my arterial function is impacted (the purpose of the study), I note many benefits of this practice. I am more aware of my proprioception, my lack of balance, and my need to focus on my breath! I pay more attention to my posture and really focus on the poses. I am learning to tune out all other thoughts so as to perfect the pose. Using my garmin and polar, (gadget lover that I am), I am amazed to learn I burn between 400 and 450 calories with some instructors, (a little less with others). A totally positive experience, and I hope to continue to practice when my daughter starts so we can do so together.

Dear Fred, You have taught me many things which I cherish dearly; but perhaps, the one that has truly been a remarkable awakening for me, were the words you once told me: "you've been liberated". Yesterday I had to face a similarly challenging situation (to say the least), and the first thing that popped into my mind was you saying those exact words. All of a sudden I was overwhelmed by this feeling of "everything-will-be-ok". I then decided to embrace the moment and truly feel (and believe) that everything happens for a reason and the universe is so much wiser than I'll ever know. I just needed to drop you a line and thank you from the bottom of my heart for your teachings. You are truly an inspiration and I've been (somehow) tremendously blessed to have such a wonderful master, and there aren't enough words to even begin to tell that you'll forever have my most profound, sincere and infinite appreciation. It will be my most absolute honor if I ever have a chance to take another course with you. With endless gratitude and admiration,
Barbara


Hi Fred, last night was my first class at the gym. The room was packed, they had to put people on the waiting list. Next week class is already filled up as well. The manager took the class and loved it. She wants to convince the owner to have a second one on the schedule. I also have a third class with my restaurant manager, owner and some of the staff at the first location every Monday. My weight continue to drop, my energy level is awesome, I'm getting stronger, life is good!
Your thankful French Canadian student


Dear Fred,
Just a note to say Thank You. I know you're not doing what you do for me nor any person in particular, like you explained this afternoon, but either way I wanted to let you know that I have been experiencing amazing days so far and I really would like to thank you for that because your words and your way of teaching us really plays a big role in that. Lovely to have a master who is direct, no-nonse and blunt yet a loving vessel passing through and showing the wonderful philosophy at the same time. You are helping me to eventually become the teacher who's singing and dancing in my heart. Just felt the urge to thank you for that I guess…


Hi Fred:) Thanks from the bottom of my heart for your beautiful, healing teachings! We met at your studio and you helped me with wrist adjustments..they have really helped and after over 10 years of practicing yoga, in India and NYC your practice is really helping me in every aspect of my life:)
Liah


Training testimonials continued ..