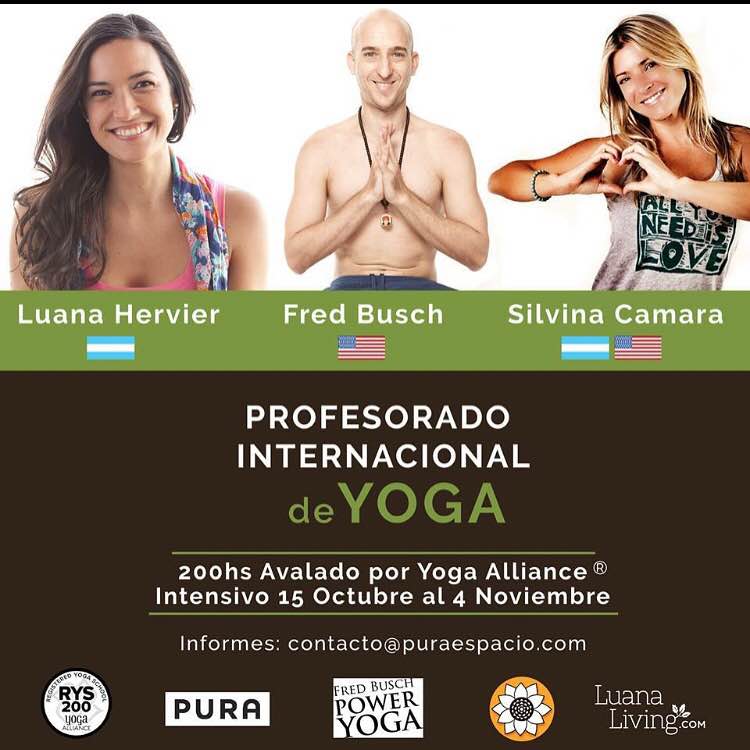 Profesorado Yoga en Español Latin America -Teacher Training Latin America
Yoga Teacher Trainings in Latin America with Power Yoga and Nutrition Master Fred Busch en Español 
Fred Busch's Teacher Training Latin America Tour Upcoming Dates in South America and Central American Coutries for 2016 and 2017!  Join Fred and some of Latin America's very best Masters to learn how to be a Yoga Teacher and how to advance your practice to the highest level.
Oct 15th- Nov 3th, 2016 – Buenos Aires, Argentina with Fred Busch, Luana Hervier and Silvina Camara hosted by Pura Spacio Yoga Studio
November 4th – November 25th, 2016 – at Natural Yoga Bogota, Colombia with Fred Busch
January 14th – February 4th,  2017 – at Miami Yoga -Miami, Florida with Fred Busch and Silvina Camara
March 4th- March 25th 2017 – Buenos Aires, Argentina with Fred, Luana Hervier and Silvina Camara
April 17th-  May 14th, 2017 at Lima Yoga in Lima, Peru
June 24th – July 14th – Panama City, Panama with Laurie Virginia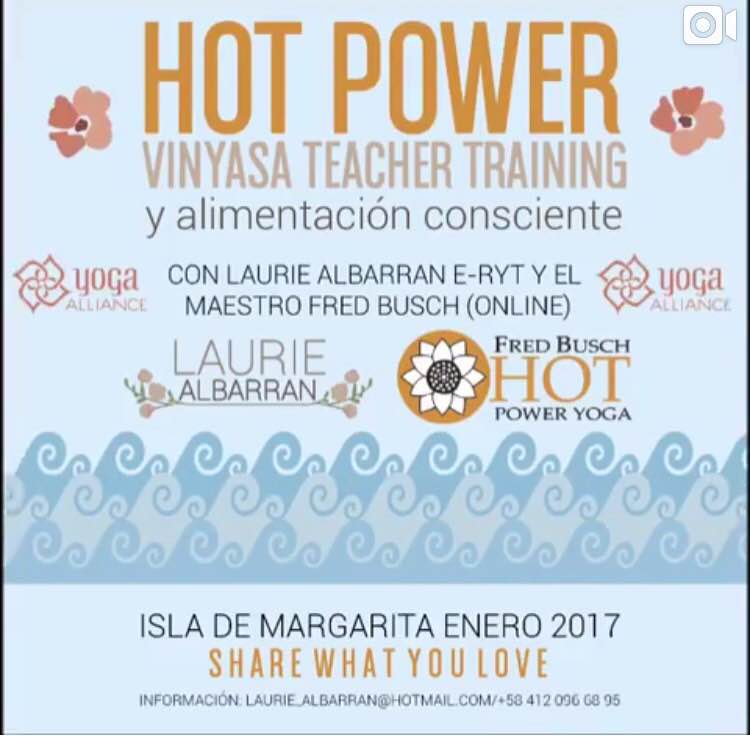 Fred es uno de los maestros más altos en los Estados Unidos y uno de los pocos que también tener fluidez en español. Fred empezó a entrenar profesores  en el 2001, formando a la mayoría de los profesores de power yoga en Miami, Lima, Bogota, y muchos más, quienes se encuentran actualmente dictando exitosamente sus clases en diferentes estudios de la ciudades.
Los estodios estan infinitamente agradecidos por los excelentes instructores que ha formado y por su gran y valiosa contribución al desarrollo del Yoga en estas ciudades.
Profesor registrado con el título E-RYT (Experienced Registered Yoga Teacher) ante el Yoga Alliance. Es autor de "A Clear and Definite Path" y "The Lower Back Bible" y es productor de diversos dvds de Yoga. Fred es especialista en el uso de secuencias terapéuticas de Yoga, alimentación saludable, masaje terapéutico y Shiatsu. Fundador y director de Brickell Hot Yoga en Miami, Florida, desde hace 13 años prepara profesores de yoga alrededor del mundo: Miami, New York, Londres, Paris, Malta, Bogotá y Lima, Perú, siendo su programa uno de los más reconocidos y completos en el mercado actual. En el 2008 dirigió en Lima el primer teacher training avalado por el Yoga Alliance en Perú, lo que marcó un inicio para el crecimiento de la comunidad de Yoga en esta ciudad, pues ha formado unos 90 profesores, muchos de los cuales imparten exitosamente clases en LimaYoga y otros centros. Actualmente dirige retiros de Yoga en India, Kenya y en su nuevo rancho-retiro Salamadhi, en Colorado.
Do you want to attend a Yoga Instructor Course in Latin America?
Latin America has many attractive qualities for attending Teacher's Trainings and Transformations!  The wonderful climate and access to the highest quality fruits makes for a truly transformative environment!  From the ruins of Machu Picchu to the beaches of Aruba the amazing sights and History of the Dominican Republic and Buenos Aires, there are so many reasons to come to Latin America for your Training!
Why Attend a Fred Busch Yoga Training?
To hear a few of the reasons why it may be the perfect time to just go for a Hot Power Yoga Teacher Training Latin America… check out some of these Fred Busch testimonials!
International co-Faculty
Laurie Albarron – Founder of Asana Yoga Center in Isla Margarita, Venezuala.  Asana Yoga Center nace con la intención de desarrollar constantemente actividades relacionadas con disciplinas como el Yoga, Aero-yoga, Pilates, Meditación, entre otras, y servir de centro de difusión y enseñanza de diversas herramientas que contribuyan a mejorar la calidad de vida de los habitantes de esta región, y sus visitantes.
Nuestra propuesta de valor es ofrecer un espacio agradable que concentre servicios y actividades que promuevan un estilo de vida saludable, amigable con el medio ambiente, y que generen un cambio positivo en nuestro entorno, a través de la transmisión de conocimientos en diversas áreas del ámbito físico y espiritual.
Luana Hervier -Luana Hervier es una apasionada Health Coach, Profesora Internacional de Yoga, columnista en Blogs como Green Vivant e Infobae además de  conducir en radio y su programa de TV en la señal MasChic. Es Fundadora de One Yoga Foundation, de lo cual nos contará un poco en estas líneas. Ella apareció sincrónicamente, cuando ya había ciertos cambios que había realizado en mi alimentación y cuando la búsqueda de pasión y equilibrio era necesaria en mi vida.
Ella inspira luz con una sonrisa que solo las personas que trabajan en sí mismas podrían tener. Dueña de un acento particular, facilitadora de técnicas fáciles y sencillas, ayuda a mucha gente a poder conectarse con su cuerpo, y equilibrar su paso en esta vida. Podría hacer una introducción súper extensa, porque esta mujer da mucho al mundo, pero prefiero que ustedes la conozcan desde esta entrevista que con amor le realice.
Check out everything about Luana Hervier, one of the Latin America's leaders in the field of Yoga and Nutrition.  Luana is Author of Luana Living and Host and Guide on her very own internationally syndicated television show.
Silvina Camara – Director of Miami Yoga and international vocal artist.  Silvina is Fred Busch's most senior student and leading teacher in Miami.  Silvina is from Argentina and leads retreats internationally.