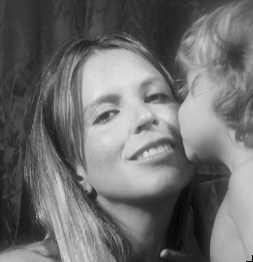 Prenatal and Fit Mom™ Yoga Teacher Training with Fernanda Casasbuenas
This 2-Module 60 Hour Program for Prenatal Postnatal Kids yoga teacher training brings together the most important specializations in one training.
Prenatal and PostNatal Teacher Training (Module 1)
This 30 Hour Teacher Training Specialization program is for teachers and future Mom's who want to learn the best ways to prepare for and enjoy pregnancy.   Fernanda guides you to learn how to keep a mother's body  strong, balanced and flexible!
This program shows how mother and baby can relate with consciousness through pregnancy and childbirth to have a gentle and empowering birth experience.
* This course will teach you to assist a woman in her journey through the most transformational, life changing time in her life.
What is Fit Mom™?
The Fit Mom™ component of Fernanda certification teaches women how to come back to her pre-birth shape and balance her emotions after birth experience.  Fit Mom™ works with her body to lose weight in an intelligent, her mind to help her tune in the new currents of her life and to live in a sustainable way.  Learn how to create and share special moments of connection by exercising together with your baby!
Day 1.
1hour Introduction, benefits & breathing exercises.
2 hours anatomy, brain
1 emotions
Day 2
1 hour practice, 2 hours trimesters of pregnancy
1 hour physiology- pregnancy anatomy
Day 3
1 hour practice , 2 hours teaching flow, 1hour teaching practice
Day 4
1 hour practice prenatal flow
2 hours baby positions – signs of labor – Q&A- common pregnancy discomforts – concerns & precautions. Precautions and poses to avoid
1 hour teaching prenatal flow
Day 5
1 hour practice post natal flow
2 hours postnatal anatomy – eating talking ( Fred Bush)
1 hour teaching asanas (flow)
Day 6
1 hour practice prenatal flow
1 hour practice postnatal flow
1 hour practice teaching students
1 hour teaching restorative class- using yoga ball
Day 7
Exam ( practical and evaluation)
Miami Yoga's Prenatal Teacher Training is combined with the other specializations and is designed to help pregnant women enjoy the benefits of Yoga.  Most OBGYN physicians recommend Prenatal Yoga as part of a healthy pregnancy.
Learn how to build strength and awareness that will be helpful for the childbirthing process.  Feel a deeper connection with your baby with Prenatal Yoga.  Yoga for Pregnancy is an amazing way to enjoy the sacred journey of motherhood.
Learning to become aware and have control over breath… called Pranayama in Yoga  is critical to maintaining equanimity in the childbirthing process also!