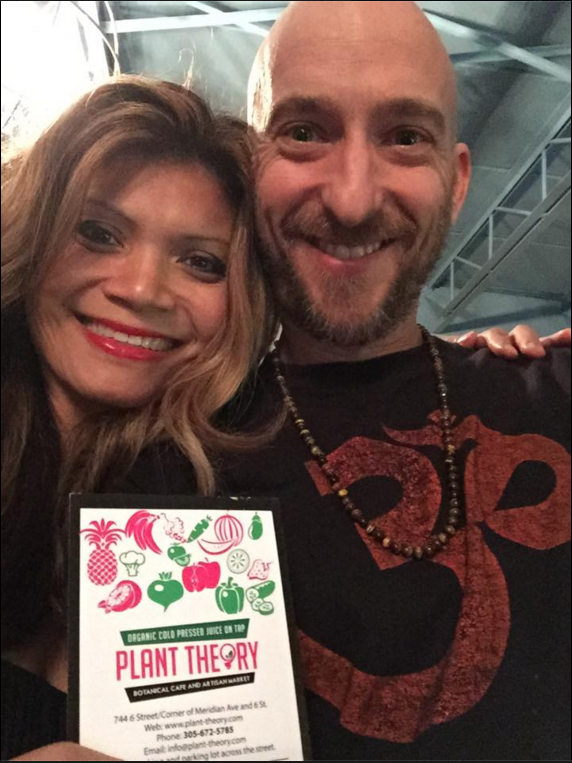 Hey Everyone!  Great News!!  There is a brand Vegan Cafe on South Beach being run by my good friend Master Chef Sheryn Abalos!!!  Plant Theory is located in the heart of South Beach on Meridian Avenue and 6th Street!   Sheryn Abalos is THE NUMBER ONE PIONEER and LEADER for vegan style and raw vegan style eating in Miami! Sheryn and I have been friends since the days of my FOOD WITHOUT FIRE RESTAURANT!!
Is on 6th and Meridian on South Beach! Website is www.plant-theory.com
This is exactly the kind of cafe…a VEGAN CAFE… that we all need to accomplish our intentions!  If we are interested in losing weight or eliminating mysterious symptoms then we must start eating more plant-based meals!  In my many years of experience i have noticed that people are able to eat better when they have options that are convenient and that taste great!  This is what it is all about!  Sheryn and her team at Plant Theory have created a fun and smart menu designed for everyday people to make a part of their everyday smart routine!
Weight loss is not the only benefit to eating a plant based vegan style.  There are many mental effects that are experienced by people who learn a little about nutrition and are able to change their diet a bit.  People report better attitude, less anxiety, better concentration, more spiritual understanding, and many other more subtle benefits.  Eating plant based foods with exercise daily is the key to success in transformation…whether that be physical, emotional, psychological, spiritual, or all of the above!