The NAMASTATE of Mind Yoga Challenge
🏔ENTER the NAMASTATE of Mind Yoga Challenge on Instagram for a chance to WIN a FULL SCHOLARSHIP 200 hour RYT Yoga Teacher Training at Salamadhi Ranch in Colorado and MEET John Lewis aka BADASSVEGAN ➕ MORE PRIZES
✨ 4 Weeks
✨ 4 Yoga Poses
✨ 4 Instagram Posts
🔆HOW TO ENTER & COMPLETE THE CHALLENGE
1️⃣ Follow @badassvegan @fredbuschyoga @namastatechallenge @sacredspacemiami
2️⃣ Ensure your instagram account is Public 👤
3️⃣ Like this post and comment below, so you can receive the NAMASTATE OF MIND Weekly Yoga Pose Calendar 📩
4️⃣ Beginning Monday, September 4th, create and post a photo of yourself for each week of the NAMASTATE OF MIND Weekly Yoga Pose Calendar. 📝Week 4 requires an Instagram video in which you answer three questions listed in the calendar.
5️⃣ Caption all (4) posts with the following: @badassvegan @fredbuschyoga @namastatechallenge @sacredspacemiami #badassvegan #namastatechallenge #yogachallenge #yoga #poweryoga #yogateachertraining #fredbuschyoga #salamadhiranch
6️⃣ Post the Yoga Pose of the week on Instagram.
7️⃣ Have fun, and follow your 💚
📜CHALLENGE RULES & GUIDELINES
⏰For each week, make your post on Instagram no earlier than Monday at 12:01am EST and no later than Sunday at 11:59pm EST. Week 1 begins Monday, September 4th.
🎊All participants who complete the challenge in accordance with the Challenge Rules & Guidelines are Finalists.
🏅All Finalist posts are reposted on the @NAMASTATECHALLENGE Instagram page on Oct. 2nd.
🥇The Finalist post to receive the most amount of likes wins the Grand Prize. The runner-ups receive the runner-up prizes.
✋️Voting week begins Monday, Oct. 2nd and ends Friday, Oct. 6th.
🥁Winners are announced on Monday, Oct. 9th on the @NAMASTATECHALLENGE Instagram page.
🎉All winners receive a Namastate of Mind T-Shirt and Fred Busch Power Yoga hoodie.
👥 All prizes are transferable. Feel free to win a prize for a friend.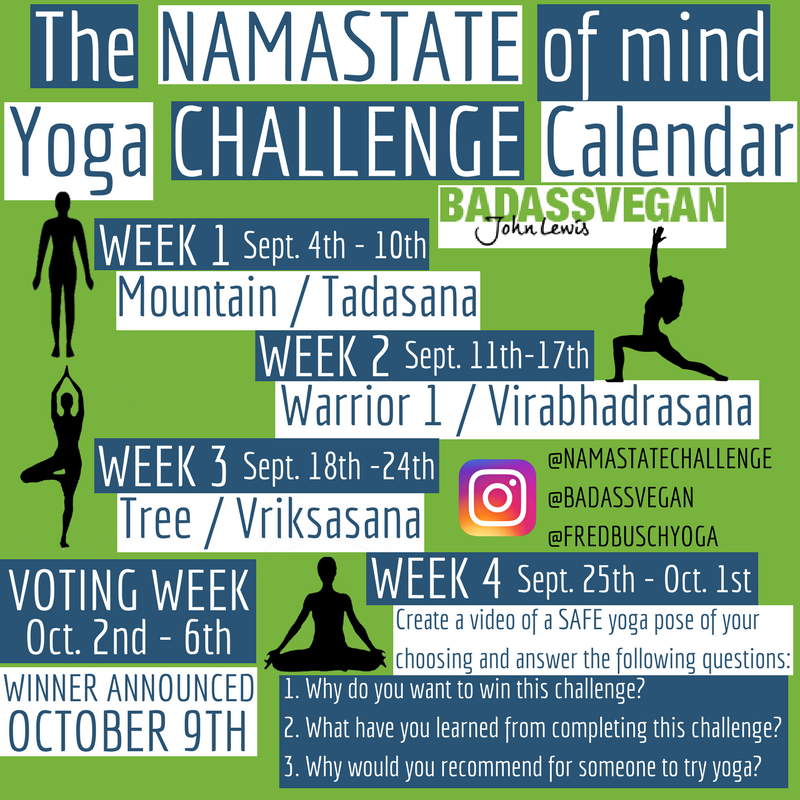 The NAMASTATE of Mind Yoga Challenge Calendar
🔸WEEK 1🔸
Sept. 4th – 10th
Mountain / Tadasana
🔸WEEK 2🔸
Sept. 11th – 17th
Warrior 1 / Virabhadrasana
🔸WEEK 3🔸
Sept. 18th – 24th
Tree / Vriksasana
🔸WEEK 4🔸
Sept. 25th – Oct. 2nd
🎥 Create a video under one minute of a SAFE yoga pose of your choosing and answer the following questions: (1) Why do you want to win this challenge? (2) What have you learned from completing this challenge? (3) Why would you recommend for someone to try yoga?
🔸VOTING WEEK🔸
Oct. 2nd – 6th
Finalists' posts are reposted
🏆WINNERS ANNOUNCED🏆
October 9th