Ashtanga Yoga – Ashtanga Vinyasa Yoga has been injuring students lower backs and knees due to poorly trained teachers who emphasize physical feats of accomplishment as the goal of Yoga.  I understand there are the few Masters of the Ashtanga Vinyasa Yoga kingdom that do not do this… i happen to truly love David Swenson for example, they are truly the few and far between in a world of heavy handed adjustments and ego based student guidance.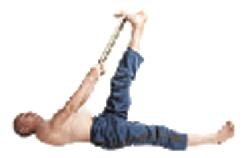 I'm not sure why I relate stories like this when it sets me up for criticism…but I guess I do because the stories are true!
I'm presently at my chiropractor and I give the person waiting next to me our yoga studio schedule and they say 'well i am here in pain BECAUSE of Yoga!' I asked what style and the answer was ASHTANGA VINYASA YOGA (also known commonly as Ashtanga Yoga).
I then related my personal experience of being permanently injured after having been pushed lower in forward bending poses.
And this person mentioned that is precisely what happened to her and now she has herniated discs and constant back pain.
I told them I actually wrote a book on lower back pain due to my experience with this injury and healing my pain through modifications of poses.
Taking to my chiropractor few minutes later he says is 'really high percentage' of students that see him for injuries received inside the local Ashtanga vinyasa studio here in miami.
Other yogis may be upset with me for calling this out but I never back down from criticizing anybody who hurts lots of people!!
Whether it be horrible food vendors or drug companies or yes even yogis if they are hurting people systematically like seen in AVY and Bikram…they deserve the criticism.
Here in miami we have famous Ashtanga yoga teachers and their students who claim to be teaching quality yoga but are essentially teaching in a way that is an unfortunate factory for permanent injuries of the back and knees!!
If u have been injured in Ashtanga vinyasa yoga and you quit yoga or the injuries are not healing… Come and practice with us maybe and let us show u how to modify your self practice to create a healing environment and never take a day off from your practice again!!
The Lower Back Bible by Fred Busch is available on Amazon!  This is the best and safest way to prevent and alleviate lower back pain!
"Hi Fred! How are you? I just wanted to let you know that I find your Lower Back Bible to be an invaluable source of info. There are so many people who suffer from back pain it's truly a blessing to be able to get that info to them. I'm hosting a workshop on back pain this weekend and will be sharing your info. I'll link them to your Amazon page so they can get their own copy!  I've been very blessed to have you as my mentor. Thank you for always being such an amazing source of support on my yoga journey."  Jessica D.  Toronto,  Canada